Common name(s)-
Texas Cichlid, Rio Grande Perch
Scientific Name-
Herichthys cyanoguttatus
Native geographical area- Central America; Texas and Northern Mexico
Native habitat- Streams, Pools, Drainage Channels
Maximum Size- Males get 12 inches and females 10 inches.
Minimum Aquarium Size- 55 Gallons
Natural & captive Diet- Omnivorous. Will eat flakes, cichlid pellets, cucumber, beefheart, bloodworms, tubifex worms, brine shrimp, cichlid sticks
Tank zone- Middle to bottom, except when feeding
Temperament & compatibility- Aggressive and territorial so be sure to have plenty of plants and hiding spots.
Hardness range- Medium to hard
pH range- 7.0 - 8.0
Temperature range- 74*F to 80*F; Optimal- 77*F
Salinity range- None required
Photo period- 11-12 hours per day
Seasonal changes critical? No
Notable sensitivities- As with other fish, be sure to keep the temperature stable. Needs well oxygenated and clean water.
Hardiness & Lifespan- 10-18 years
Physical description- Has a light gray body, when juvenile it has white spots and as it grows older they develop into turquoise spots. Males have a slight bump on their head and more pointed dorsal & anal fins then females.
Female: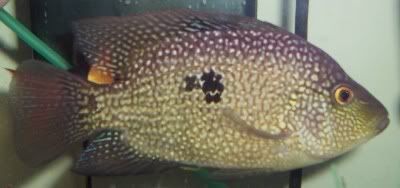 Male:
Activity peak- Diurnal
Habits- Loves to dig in the substrate and will uproot plants
Spawning notes- Texas Cichlids prefer a flat surface such as a rock in which they lay their eggs, which can number to 500. Both the male and female guard the eggs, but if they become nervous or frightened, they may eat the fry.
Other notes- Some Texas Cichlids are known to be peaceful, others are known to be VERY aggressive. They are used as a game fish in Southern Texas and Northern Mexico. This is the only cichlid native to the United States.