There are two major geographic groupings of frontosa (the northern types and southern types). Each of these grouping are comprised of sub-groups (for example, the northern types are the burundi's and kigomas; the southern sub-groups are the zambian, tanzanian and zaire sub-groups).
Within each sub-group are the variants (for example, the mpimbwe-variant is within the tanzanian group, moba's are within the zaire group, etc).
The southern types perhaps have the bluest coloration; some would argue that of the southern types the zaire group are the bluest (zaire blues/kapampa's, moba's/kitumba's etc). I think variants within this group tend to cost more.
Some individuals are bluer depending on genetics and quality (a great quality Samazi may be bluer than a low quality zaire blue, etc).
Here's my male mpimbwe, he's 12"-13" now; he's quite blue:
My bluest frontosa is my zaire blue (kapampa) when he was smaller (I don't have any current photo's of him yet but he's bluer and larger now)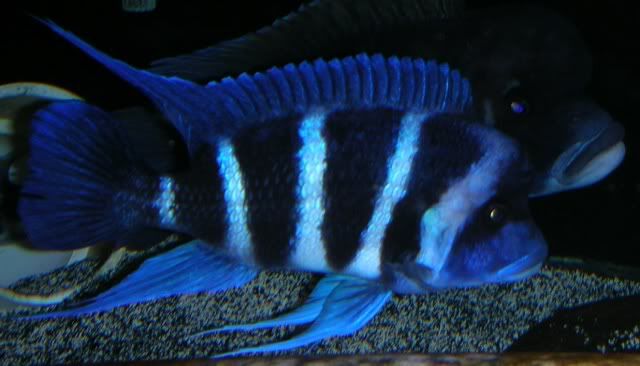 In contrast my largest frontosa, a 13" burundi, is not very blue at all, though he does have the largest nuchal hump: