Discussion Starter
·
#1
·
So, while I realize there are other threads about possibly pregnant swordtails, this is my first attempt (outside of goldfish when I was a kid) at a tank and I wanted responses that were specific to my fish and their tank (if that's understandable).

The tank is fairly new, having been set up around February 15th or so. It was a bit of a fiasco with the first fish I put in there - 2 Red Wag platies and 2 Green Tiger barbs - because the associate at Petco told me what he thought I wanted to hear instead of the facts that I needed to hear. Anyways, aside from that rubbish, the tank is much more peaceful now with 4 females and 2 males - all platies and swordtails.



(6 artificial plants, 1 live plant, 2 hiding spaces, and the greek columns.)

When I first got my two female Pineapple swordtails, they were very long and slender, like my female Mickey Mouse swordtail (who is still that way). Now, as pictured below (apologies for the shoddy quality), they both have developed a semi-large stomach bump.

(Click on pictures for larger images, if needed.)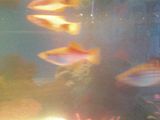 The fish at the top is my female MM sword. Directly below her is both of the Pineapple females.



Here's another, better photo of the Pineapple sword you couldn't see as well in the first picture. She's at the top (don't mind the reflection of the water). The other female sword is at the bottom.

There is no gravid spot that I can see and I figure they aren't very far along to begin with, but I was simply wondering what to expect. I bought them for their look and personality, not because they are livebreeders, so I honestly have no idea what to do. And, since the males in the tank are both platies (sunset and red wag), I'm a little excited to see how the babies will look.

Thank you!
​